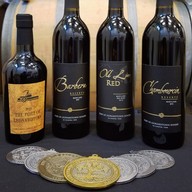 Welcome to
Port of Leonardtown Winery!
​Join Us for Saturday Music on the Patio
with Richard Wagner!
(March 25 - 4-7PM)
March is Maryland Wine Month!

POL's Charlie Murphy with Governor Hogan and Comptroller Franchot Maryland Wine Month Proclamation - March 3, 2017
Port of Leonardtown Winery's New Reds Win Big in
International Competitions!

East Meets West International Wine Competition
Gold: The Port of Leonardtown 2013
Silver: Vintner's Select Red Lot 15
Silver: Barbera Reserve 2014
Silver: Chambourcin Reserve 2014
Silver: Old Line Red 2014
Atlantic Seaboard Wine Competition
Gold & Best Red Blend: 5th Anniversary Red
(limited supplies remaining)
​New Wine Released!
Vintner Select Red Lot 15
A wonderfully robust Cabernet Franc blend
*******************************