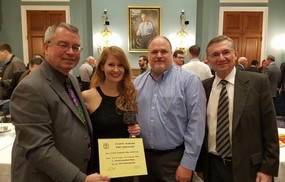 Welcome to
Port of Leonardtown Winery!
Join us on Saturday for music with Swing Away Duo performing from 3PM until 6PM on our heated outdoor patio.
Port of Leonardtown Winery's New Reds Win Big in
International Competitions!

East Meets West International Wine Competition
Gold: The Port of Leonardtown 2013
Silver: Vintner's Select Red Lot 15
Silver: Barbera Reserve 2014
Silver: Chambourcin Reserve 2014
Silver: Old Line Red 2014
Atlantic Seaboard Wine Competition
Gold & Best Red Blend: 5th Anniversary Red
(limited supllies remaining)
​New Wine Released!
Vintner Select Red Lot 15
A wonderfully robust Cabernet Franc blend
*******************************