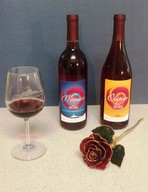 Welcome to the Port of Leonardtown Winery!
February Wines of the Month - 2012 Chaptico Rosé & Wicomico Rosé - 20% off!
Check out our Blog to learn about our new artist, Michele A. Steiger, and her beautiful works. Michele's art will be on display in our Tasting Room through May. Please stop by to view.
News Flash - In addition to shipping direct to Maryland, DC, and Florida via this website, we now serve the following states via (click link to access) Vinoshipper:
Alabama, Alaska, California, Idaho, Illinois, Louisiana, Missouri, North Carolina, North Dakota, Nebraska, New Hampshire, New Mexico, Nevada, Ohio, Oregon, Virginia, West Virginia, Wyoming
We look forward to serving you!