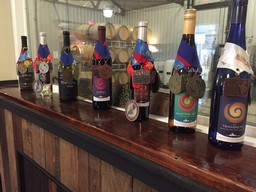 Welcome to
Port of Leonardtown Winery!
​​​Holiday Internet Special!
​Free Shipping on all orders over $100 ordered through our website!
​​Vinoshipper orders - free shipping on 6 bottles or more
use coupon code HOLIDAY16 on your order
**********************
Tasting Room Only Special!
$10.99 each or (2) for $20.00
Take Home this Beautiful Blue Bottle While Supplies Last!
*******************************
In addition to shipping direct to Maryland, DC, Florida and California via POL website, we serve the following states via Vinoshipper:
Alabama, Alaska, Idaho, Illinois, Louisiana, Missouri, North Carolina, North Dakota, Nebraska, New Hampshire, New Mexico, Nevada, Ohio, Oregon, Virginia, West Virginia, Wyoming
To ship wine to these states, please click on "Vinoshipper" above.
We look forward to serving you!