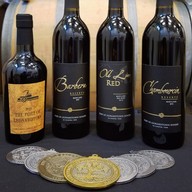 Welcome to the
Port of Leonardtown Winery
Tasting Room Hours:
Sunday-Saturday: 12-6 PM
First Friday of every month 12-9PM
Music Hours: Saturday 2-5PM | First Friday 5:30-8:30PM
Dec 9th - Triptych Trio | Heidi's Eats & Sages Treats
Dec 10th - Elijah Meyers | Tasteez Bowls
Dec 16th - Lohn | Jamaican Grill
Dec 17th - Swingaway | Lindas on the GO
Dec 23rd- Business | Dan D's
Dec 24th (1-4pm) - Gabriel Heisey | RIPs dogs, chips & sips
Dec 30th - Josh Airhart | Heidi's Eats
Dec 31st (1-4pm) Richard Wagner | Farm Fork Soul
---
Newest Releases:
Black Water - Sold Out
2022 Bubbly Blush
Passito
2022 Bubbly Blonde
2022 Captain's Table
2022 Chardonnay
2021 Barbera Reserve
2021 Old Line Red
2021 Barbera Reserve
MULLED WINE IS BACK!
HOT APPLE CIDER NEW THIS YEAR CAN BE SPIKED!
We are open 7 days a week!
Closed: Easter, Thanksgiving, Christmas, and New Years
Close Early 12-5PM: Christmas Eve & New Years Eve
Last call for glasses or open bottles is 30 minutes before we close.
Wine tastings finish an hour before we close as well.
We are open rain or shine! Our patio is covered and heated for our winter months too!
Winery Phone: (301) 690 - 2192
​​