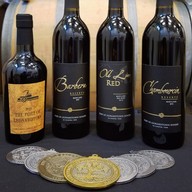 Welcome to the
Port of Leonardtown Winery
Tasting Room Hours:
Sunday-Friday: 12-6PM
Saturday: 12-8PM
Music Hours: Saturday 4-7 PM & Sunday 2-5 PM | First Friday 5:30-8:30PM
June Music & Food
First Friday - June 2nd - Bootleggers | Chaptico Market
June 3rd - Ben Connelly | Heidi's Eats & Sage's Treats
June 4th - Nightcap | El Coqui
June 10th - Flippin Eyelids | Cookielyn
June 11th - Princess Cabaret | Gato Tacos
June 17th - Desperately Seeking Awesome | Aunt Titty's
June 18th - Josh Riley | Slim Chickens
June 24th - Shortcut Sunny | Heidi's Eats & Sage's Treats
June 25th - Michael Mead | El Coqui
---
Newest Releases:
2022 Chaptico Rose
2022 Viognier
2022 Blanco Loco
Crackin Mac Cans
Chambourcin
WINE SLUSHIES ARE BACK!
We are open 7 days a week!
First Friday of every month 12-9PM
Closed: Easter, Thanksgiving, Christmas, and New Years
Close Early 12-5PM: Christmas Eve & New Years Eve
Last call for glasses or open bottles is 30 minutes before we close.
Wine tastings finish an hour before we close as well.
We are open rain or shine! Our patio is covered and heated for our winter months too!
Winery Phone: (301) 690 - 2192
​​