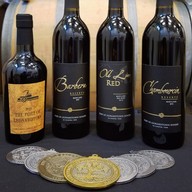 Welcome to the
Port of Leonardtown Winery
Tasting Room Hours:
Sunday-Friday: 12-6 PM
September | Satuday: 12-7 PM
September Music Hours: Saturday 3-6 PM | Sunday 2-5PM | First Friday 5:30-8:30PM
September 30th - Pax Rats | Dan D's
October 1st- California Bob | Aunt Titty's
October 6th- WildGood Band | Heidi's Eats & Sages treats
October 7th - David Sparrow | Jamaican Grill
October 8th - Work in Progress (WIP) | El Coqui'
October 9th - Merkin Wranglers | Farm.Fork.Soul
---
Newest Releases:
Black Water - Limited Release
2022 Bubbly Blush
Passito
2022 Bubbly Blonde
2022 Captain's Table
2022 Chardonnay
WINE SLUSHIES ARE BACK!
Cinnamon Spice & Apple Cider!
Non-Alcoholic Banana
We are open 7 days a week!
First Friday of every month 12-9PM
Closed: Easter, Thanksgiving, Christmas, and New Years
Close Early 12-5PM: Christmas Eve & New Years Eve
Last call for glasses or open bottles is 30 minutes before we close.
Wine tastings finish an hour before we close as well.
We are open rain or shine! Our patio is covered and heated for our winter months too!
Winery Phone: (301) 690 - 2192
​​