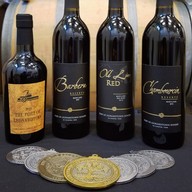 Welcome to
Port of Leonardtown Winery!
Music Line-up May
May 28th- Flippin' Eyelids- Calvert Crabs & Seafood truck
May29th- Bradley Turner- Chaptico Market
May 30th- Doc Lohn- Farm Fork Soul truck (2-5)
June 3rd- Wildgood band- Heidi's Eats & Sages Treats
June 4th- Bootleggers-Calvert Crabs & Seafood
June 5th- Night Cap-Gato Tacos
June 11th-Unfinished Business-Heidi's Eats & Sages treats
June 12th-Doc Lohn- El Coqui`
Wine tastings, glasses. wine slushies & bottles will be available
Open 7 Days a week
Sunday- Thursday 12-6.
1st Fridays 12-9
Fridays in April / May 12-7
Live Music 1st Friday (5:30-8:30)
We have an additional cozy tent this year!
Closed:Easter, Thanksgiving, Christmas, and New Years
Open 12-5m: Memorial Day, 4th of July, Labor Day, Christmas Eve, and New Years Eve
Our bottling will take place in February for Whites & April for Reds
Spring bottling tenative RELEASE DATES
Chardonnay stainless- July
Chaptico Rose- May 1st release
Viognier- September
Vidalacato-RELEASED
Vidal Blanc- Released
Blanco Loco- Released Cico de Mayo
Resolution- Available
Captain's Table - summer release
Chambourcin- possibly June release
Old Line Red Reserve- Released!
Red Lot
McIntosh Run- late spring realease
Crackin Mac- Released
​​